'BioLace' is a speculative design-led research project that investigates the intersection of synthetic biology and textile design to propose future fabrication processes for textiles.The motivation behind this research lies in the hypothesis that living technology can foster a new approach to address some of the key sustainable challenges of the 21st century.
The BioLace project is designed to probe the potential of a biological manufacturing future by exploring the cellular programming of morphogenesis in plant systems. For this, Design Researcher Carole Collet imagines the creation reprogrammed plants such as a hybrid strawberry plant which would produce at the same time both strawberry fruits and lace samples from its roots. The future biological control of genetic morphogenesis implies that we could design plants to perform specific functions for us.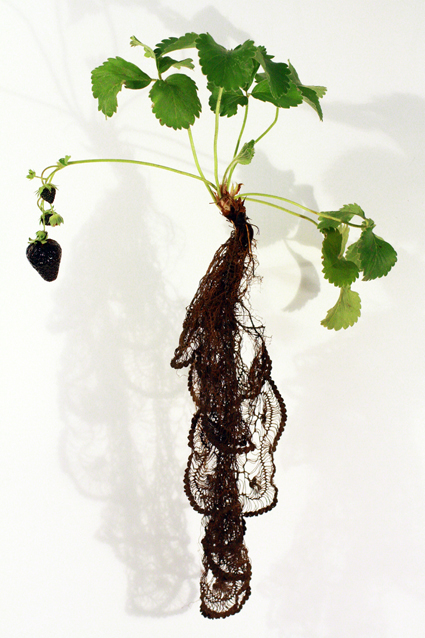 Strawberry Noir (Fragaria Fusca Tenebris)
Black strawberry with enhanced levels of Vitamin C and Antioxydants, Black Lace
This post 2050 scenario considers a radical mean to combine food production together with textile production, thus designing plants that could replace textile machinery, but also provide nutrients.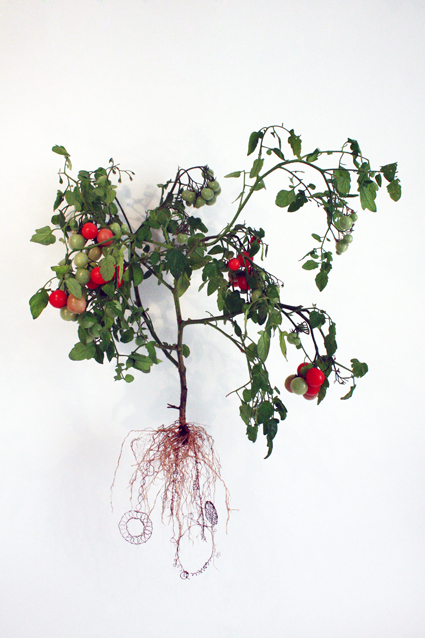 Tomato Factor 60 (Solanum Lycopene Fabricae)
produces high levels of Lycopene for UV skin protection and  protein rich edible root lace for haute cuisine.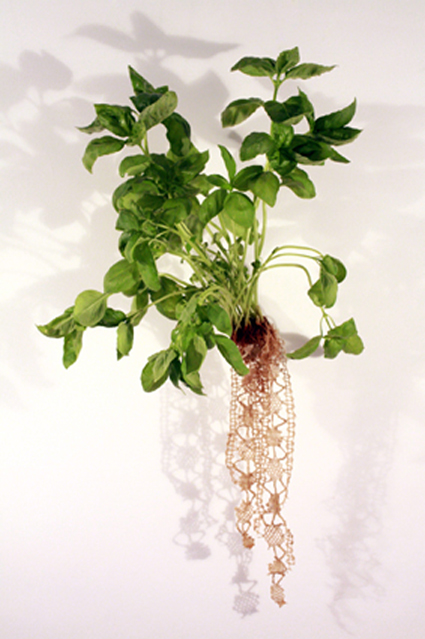 Basil n˚ 5 (Ocimum Basilicum Rosa)
produces perfumed lace for luxury fashion trimmings, culinary herb and anti viral medicine.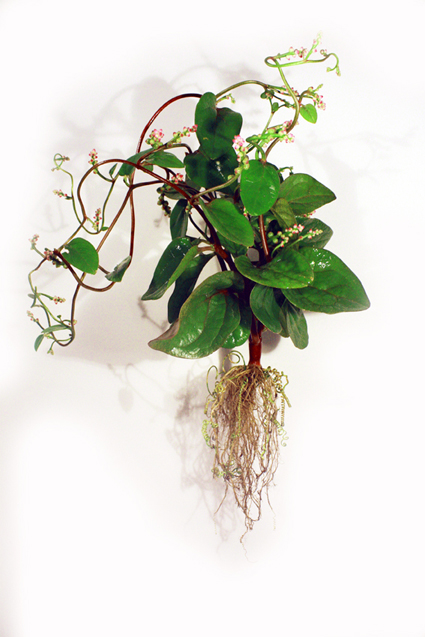 Gold Nano Spinach (Spinacia Aurea Electrica)
produces micro biological transistors for the electronic sector, and multimineral food supplement
This eco-topian scenario aims at reconsidering and evaluating our sustainable design tools and methods and is inscribed within the predicted ecological crisis when exploding world population will stretch our capacity to provide enough energy, food, water and products for all.
Currently Exhibited at Futuro Textile 3, Lille, France: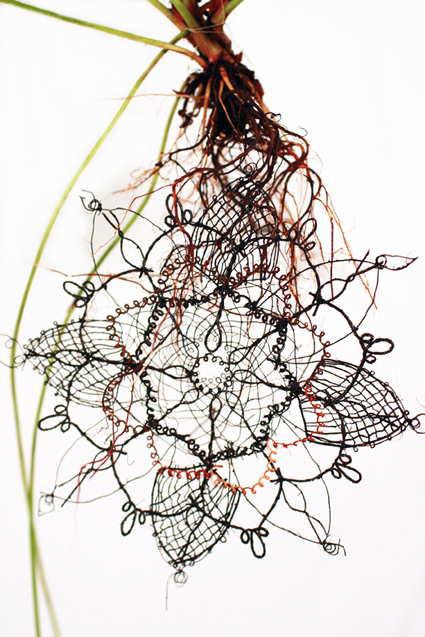 Detail of Biolace currently exhibited at Futuro Textile 3:a lace doilly made with strawverry roots.
Biolace Key Words:
Synthetic Biology, Living Technology, Future Plants, Future Fabrication, Future Food
Sustainable Design, Lace, Ethics.
Links:
With thanks to Central Saint Martins College and TFRC for supporting this project.
With thanks to Natsai Chieza, Amy Congdon, and Anne Kristin Abel, Research Assistants, Biolace project.
With thanks to Immatters, Biolace Annimation, sound and video editing.